Types of Arch
For each wall construction we have STANDARD, MEDIUM & HEAVY duty arch types, in almost every shape, the corresponding sections for cavity walls are shown below. (hollow sections are insulated) Feature brick options are also available for most arch types, click the feature brick tab on the left for more details about feature brick.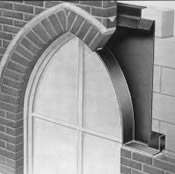 Example Gothic Arch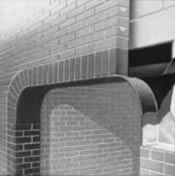 Example Radius-Corner Arch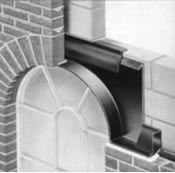 Example Semi-Circular Arch
The arches of our traditional range have always been available in four basic material grades; A, B, C & D.
This is still the case. The arches in our new dedicated stainless range are manufactured from high-strength stainless steels, whereas Grade 304 is a low-strength steel and remains in this range.
A - Grade 304 Stainless Steel
B - S275 structural steel
C - Hot dip Galvanised to 920gsm
D - Pre Galvanised to 600gsm
An optional Bitumastic coating can be added by specifying "1" after the letter, for example: "C1".
How To Order
To order arches from our G600 Galvanised range, you need to tell us the type of arch you want, the shape of the arch and the dimensions. A guide to our G600 arches, shapes and how to specify dimensions can be viewed by clicking the link to the right. Lead times are normally under a week!

Special Features
All our cavity wall and outer leaf arches are manufactured with a 'square' back. This enables easy installation of the DPC over the lintel, or alternatively, enables the lintel itself to act as a DPC if it is manufactured in stainless steel.
In order for the lintel to act as a DPC (no separate DPC required) additional stop-ends are required to turn the lintel into a 'Cavity tray Lintel'. This is the Lintray® system, unique to Harvey Lintels. Visit our Technical section for more details.
Larger arch lintels incorporate brick ties fixed to the lintel at 450 centres, so the outer skin of masonry remains fastened to the inner in accordance with British Standards.